My inadequate tribute to the gentleman known as Mr. Rory Root @ 01:14 pm
I noted with great sadness yesterday that Rory Root, the influential owner of Comic Relief and a tireless, erudite, and graciously charming advocate of sequential literature, passed away quite unexpectedly on Monday.
Please forgive me if what I'm about to write does not do him justice or if it comes across as clumsy, because I'm having a very hard time trying to coalesce my thoughts and be coherent. I had a dream about Rory last night and he's obviously been very much on my mind since I woke up.
Rory was one of those people that probably didn't realize what a great impact he had on the people that he came into contact with. He was just that humble.
I've spent almost every Friday night of the last three years hanging out with Rory, and I've shopped at Comic Relief for longer than that.
I'll start with a story.
About a year ago, a day or so after I had to put my beloved dog Africa to sleep, I walked into Comic Relief in the hopes of finding something to read that would take my mind off my loss. I remember being white-faced, numb, and probably a little shaky as I started to gather my weekly haul of comics. Rory saw my face, immediately took me aside, asked me what was wrong, and then spent over two hours with me, gently and thoughtfully taking me around the store and picking out things for me to read and consoling me with his characteristic warmth. He sent me home with a TPB of
Bone
and some other things, and refused to take my money.
I remember him taking trade paperbacks off the shelf and putting them in a pile for me, all the while skillfully asking me how I was feeling and would I be interested in this versus that kind of book, and then making the final judgement by either putting it in my hand or putting it back on the shelf.
I got home and promptly broke down in tears, because I was so moved by his gesture and so blown away that there are still people in this world who can be so randomly and genuinely kind.
I'll never, ever forget that.
That's what I mean when I say that Rory was the kind of man whose default mode was to be caring and to be a complete sweetheart.
In fact, the last time I saw Rory, almost two weeks ago, I finally forced him to let me pay for the books he gave me that night. I hugged him for about five minutes straight before I left the store because I was so glad that he was on his feet again, and I never suspected that he'd be taken so soon.
I remember that the first time I walked in the doors of Comic Relief, one of the first things that happened was that this giant, smiling, and affable man blasted me with the warmth of his personality as he asked me if I needed help finding anything. Rory had one of those great voices, too - that's something that no one's remarked on. He laughed easily, smiled always, and had remarkably expressive eyes. Despite my best attempts to seem a fearless extrovert, I'm actually quite shy, and Rory put me at ease right away. I fell, like countless others, into the habit of going out of my way to talk to him on my weekly runs to the store.
See, I work really long hours. My contact with fellow comic fans in the flesh usually takes place at Comic Relief. On top of working long hours I don't really go to cons, and my workload is such that my contact with fellow fans has been increasingly confined to the virtual arena of the internet over the last six or so years. That's one of the reasons that Rory was so important to me.
I gradually fell into the habit of going to Comic Relief late on Friday nights so that the line of people waiting to talk to Rory was short. That way, I could spend time with him. He treated me like royalty, and I know that I'm not the only customer that felt that way. My weekly run to Comic Relief to see Cory was one of the highlights of my week. I can't express how important it was for me to leave work after a stressful Friday, walk into Comic Relief feeling the need to decompress, and see Rory's welcoming smile waiting for me.
Rory was very much of a fixture in Berkeley. When the weather was nice, he'd take a tall stool outside the store to the sidewalk, perch on it with his omnipresent tall stainless steel mug of tea, and hold court with almost anyone and everyone that would walk by. I had some of the best conversations of my life standing on the sidewalk on warm Friday nights, talking to Rory about everything from Etruscan sculpture to photography to Gene Wolfe to the state of the industry to Ed Brubaker to the mythos of Captain America. He was truly one of the most intellectually well-rounded people that I've ever met in my entire life.
I'd like to mention the store kitties, too. Rory loved animals. He adored cats, and in addition to adopting homeless kitties that he kept at home, he always had cats that lived in the store. A couple of years ago he adopted two beautiful cats, a mother cat that he named Ash and her baby kitten that he named Ember. (Ash is a beautiful grey and cream brindle, and Ember is a gorgeous black, gold, and orange brindle. They look like yin/yang versions of each other.) Part of the fun of going to Comic Relief was playing with the kitties as they either chased each other around the store or studiously pretended to ignore each other (and the customers).
Being a very responsible cat owner, Rory never let the cats outside the store onto the street. Since the doors of the store are always left open during decent weather, it was a mesmerizing game to hang out with Rory and watch the cats slowly and seemingly casually drift closer and closer towards the open door, only to have Rory direct a gentle word their way when they dared to get a little too close to the sidewalk, and then watch them promptly retreat in defeat to the interior of the store.
(Fun aside: There was a five month stretch of time where every single time I walked into Comic Relief and headed towards the back of the store to the new issues section, Ember would jump up on the table that had all of Ed Brubaker's
Captain America
trade paperbacks displayed artfully so that she could bat at me as I walked by. I kept telling her that I was already reading Brubaker's Cap book and that she didn't need to try to sell it to me by swatting at me, but it didn't do any good. Rory was greatly amused by this.)
Ed Brubaker, by the way, used to work for Rory at Comic Relief.
Rory was a gregarious and welcoming presence to everyone that walked into his store. His store also happened to be - and I know that I'm not alone in this opinion - probably one of the best comic stores in the
entire world.
As so many have noted, he billed Comic Relief as a bookstore that happens to have a whole lot of comics, and that's exactly what it was. Rory carried everything from pop culture journals to art periodicals to books to coffee table tomes of photography and art to manga to novels to comics. The store in its present location was meticulously and pleasingly laid out and is the exact
opposite
of the fluorescent lit corner comic store that smells of unwashed fanboy. The inventory was (and is) huge and obviously put together by people - that being Rory and his staff - with exquisite taste and vast knowledge of the medium.
Rory was also incredibly welcoming to female customers. This was very, very important to me. I remember Rory telling me one night last year that when Marvel was publishing its
Emma Frost
series he wanted very much to recommend it to adolescent and teenage girls that came into the store, because he thought it was well written and a good starter series for girls first getting into the hero genre of comics, but would never go out of his way to recommend it because of the sleazy and exploitative cover art. Hearing that from a man in the industry was such an incredible thing, and it was typical of his commitment to make the store
and
the medium a safe and welcoming place for girls.
I remember when the first issue of a new series debuted last year - a series from one of the smaller publishers - with a cover that caused a tremendous amount of controversy and concern in the feminist corners of the comics blogsphere. When I went to Comic Relief that week, Rory mentioned to me that he called the publisher to tell them that he wouldn't put the book on his shelves because he was too embarrassed for his female customers to see the cover.
Rory
got it.
I can't go into how influential he was as a retailer because too many people are already describing that with far more skill than I ever could, but San Diego Comic Con won't be the same without him. He was a fixture on panels, at cons, and industry shindigs.
Rory affably tolerated my pedestrian taste in comics and constantly turned me on to new things, gently urging me to expand my reading horizons. He's the person that turned me on to Greg Rucka's
Queen and Country.
He's the person that got me into
Criminal,
True Story, Swear to God,
and a ton of other things that I won't list here. He got me over my bias against reading black and white comics. He oohed and aahed with me over Ribic's Silver Surfer art, persevered for five months with Marvel until he got me that Dell'Otto Annihilation poster that I asked him to order for me, teased me about my love for all things cosmic, and always had a hug for me. We talked about gourmet food, our mutual love of horror, and our favorite artists and writers. He urged me to give writers that I'd previously dimissed a second and third chance.
I have spent a lot of money at Comic Relief and have never, ever regretted it. I'll continue to shop there. If the store closes, I don't know what I'll do. Nothing can replace the experience of being able to walk in the doors of Comic Relief, breathe a big sigh of happy relief, and acquire some good reading.
Rory always had the best industry insider scoops, too. But what made Rory stand out was the diplomatic and gracious (yes, there's that word again) way he'd convey those scoops and opinions and, yes, gossip.
I won't go into how much work Rory did with libraries, how ahead of his time he was on multiple fronts, how much work he did with the Comic Book Legal Defense Fund and how he vigorously opposed censorship, how supportive he was of independent comics and smaller publishers, how he'd sit down with almost anyone that needed advice and give them his time and best effort, because others have already mentioned that a
lot
over the last twenty or so years.
As I've been reading the outpourings of sadness about Rory, reading all the great stories people have about him and the memories that they're sharing, one thing stands out.
Rory was a class act all the way.
As Warren Ellis said yesterday, we couldn't afford to lose him.
Comic Relief has updated their site with news about Rory.
They've set up a
memories
page where people can post about Rory, and it's filling up with some absolutely great stories from industry professionals, customers, and friends. The outpouring of love is
amazing.
Wonderful tributes:
Warren Ellis
on Rory. My heart goes out to Rory's sister. She posted a comment to Ellis' entry that just broke my heart.
I love the comment Carl Horn posted on Ellis' website:
"I haven't even had the chance to visit their new, expanded store these past few years, but there is no doubt Comic Relief's success has come about because of Rory's outward-looking vision and belief in comics of all kinds and for all readers, a vision that more and more came to share. He was as hardcore a fan as they come, but the complete opposite of the "Comic Book Guy" in mentality. Despite being a mecca for the collector, the store was always ready for the newcomer and the questions of the curious passer-by, who may have known little about comics at first, but might soon end up a regular customer. Some comics retailers learned from Rory's example, and for the many who haven't, they still can. There's no reason a comics store can't be a successful part of the community and a progressive cultural force–I saw it work with Comic Relief."
Neil Gaiman's tribute to Rory.
The Beat at Publishers Weekly's latest article.
(That's one of many posted about him on The Beat over the lasty forty eight hours.)
Matt Fraction writes a heartfelt thank you to Rory.
Paul Levitz, the President of DC Comics,
blogs about Rory over at Newsarama.
I like his intro:
"We lost one of comics' gentle evangelists today, a man named Rory Root who preached from an overcrowded store crammed with graphic novels and comics of all description, or in the middle of a bustling convention floor, or really, almost anywhere that someone would listen. Oversize coffee mug brim full and ever-present in his hand, he'd move through his wares with the sure hand of a man who knew each of his customers — even ones he'd never met. He knew what you'd like, well enough to bet that you'd keep a book he guaranteed to take back. And he'd remember, even from year to year."
Noah Brand relates his recollections
of the impact Rory had on his life.
Excerpted:
"Rory's dead and I should be writing about him, and I know this post is mostly about me. That's because I'm not qualified to write about Rory's life. He touched too many people, changed too many lives and fortunes, did too much for too long for an artform that everyone used to dismiss as irrelevant trash. All I can do is tell a little about how he touched my life, what his work and his store meant to me.

Without Rory Root, I wouldn't be anything like the man I am today. I wouldn't have the life I do, I wouldn't be the person I am. For good or ill, he changed my life irrevocably, just by running the best comic book store there ever was. And I'm far, far from unique in that, but it's what I have to remember him by."
Greg Rucka relates how Rory charmed his grandmother.
The original announcement on Blog@Newsrama.
There are some lovely comments there, too.
The first comment was from Sean McKeever:
"Such a sweetheart of a man. My thoughts will be with you, Rory."
Peggy Burns on Rory.
Comics Reporter
has a long piece and good round up of links from people literally around the world.
From Ed Brubaker:
"When I look back at my life so far, some of my fondest memories are from those Berkeley days, hanging at the shop and talking comics with Rory and the rest of the staff back then, all the cool locals who would come in -- Jonathan Segal from Camper Van Beethoven (who I turned onto Eightball), Aaron Cometbus, all the underground cartoonist signings and the parties afterward. It was a great place to be young and wide-eyed, and that's what Rory wanted it to be. A cool comics shop that paved the way for the future of comics shops. I always told him if he'd franchise CR all of comics would benefit from it."
Brian Hibbs article on Rory.
CBLDF's announcement.
Quotes:
I was always surprised by just how many people he knew. On numerous occasions, while helping at Comic Con and other shows, he introduced me to some amazing people Eisner, Spiegelman, Miller, Gaiman, and even Ellis. He always made sure that proper introductions were made. He had a heart of gold.
- Sean Cleveland
It's been a pretty hard day at the Image office. We all go to Comic Relief on a weekly basis and two of our employees used to work there. I can't begin to express the loss people are feeling for Rory. He was one of the good ones. Rory loved comics. He always helped people find what they were looking for, he made excellent suggestions–he didn't look down on people for reading books that he didn't care for but he'd gently suggest that they check out superior books in a similar vein. He carried a very eclectic bunch of books and his store is a veritable treasure chest of cool stuff. This is the kind of store most readers can only dream about and Rory was the glue that held it all together.
- Erik Larsen of Image
His prophetic sense that it was inevitable and necessary for comics to be part of book culture--both literary and retail book culture--was clearly way ahead of its time. His work with libraries was just the same: prescient and practical. He not only saw how important libraries and librarians would be to book format comics, but he took the steps and did the hard organizing work to make it happen.
- Calvin Reid of Publishers Weekly
The entire industry is in mourning. As you can see, this man was adored.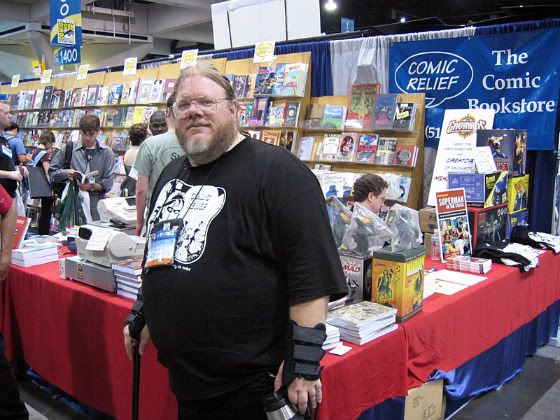 RIP, Rory. I was glad to know you and grateful for every single moment that you spent with me. I was just a lowly customer, but I thought of you as a friend. If there's any kind of an afterlife, I hope that you're sitting at a table with Will Eisner and Jack Kirby and everyone else that you want to hang out with, drinking your mug of tea and thoroughly enjoying yourself.
Edit:
I forgot that Rory was invited to speak at the Commonwealth Club of San Francisco some months ago.
There's a link to the podcast here, I think.Edit the Second:CBR puts up a lovely piece about Rory.
Excerpt:
"It can be said without hyperbole that Root helped revolutionize the institution of the comics shop. In the early days of this new century, Root and a small handful of other American retailers declared war on the "Comic Book Guy's" Android's Dungeon stereotype of the Comics Shop experience, and put in its place a true comic bookstore; a clean, cool place where readers and fans (and girls!) could gather to meet one another, enjoy uncommonly relaxed access to their favorite creators, and, most importantly, discover new comics books."
Well said.